Railcar and Locomotive Dismantling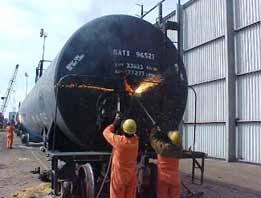 LEJAK offers railcar and locomotive dismantling services in the Midwest through our partner All American Recycling.
LEJAK also offers dismantling services in California and Texas through our partner Jimco Salvage.
Looking for Our Products?
With a team of railroad industry veterans, LEJAK has a unique understanding of the North American railroad industry and how to bring a new product or design to market.
LEJAK & Associates began as a manufacturer rep firm. Using our relationships and experience in the North American railroad industry, LEJAK is an ideal partner for rail supply companies looking to grow their business.
LEJAK offers truck and bearing training classes by request. If you have employees new to the railroad industry, a LEJAK instructor can deliver these classes in person or via web based training.